When using any form of cleaning equipment or pressure washers safety is the most important thing whether you are using the machines for domestic, industrial or commercial purposes. Training in the safe and correct use of cleaning equipment is important not only from a health and safety point of view but will also help prevent breakdowns caused by misuse.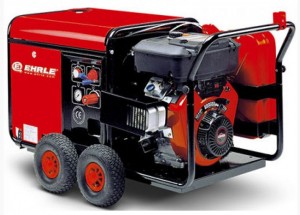 Top Quality Training Services
Some of the machines that we offer are producing very high pressure water and this can be dangerous in the wrong hands and with hot water machines there are important operating procedures such as cooling them down before the machine is switched off - something that a lot of users aren't always aware of. Whilst training is always offered with the purchase of new equipment it is also something that most users can benefit from and in some industries is an absolute requirement as part of their health and safety guidelines.
We offer initial training programmes for complete beginners as well as on site refresher courses if you feel your business would benefit from this. We have over 30 years experience and have an unrivalled pool of expert knowledge. We regularly provide training course throughout Staffordshire, Shropshire, Cheshire and Derbyshire from our Stoke-on-Trent based workshop. You can also check out our top tips for pressure washer use here.
Contact Us For More About Our Training Services
If you would like to know more about the range of training services we have on offer or you have a question for us then please do not hesitate to get in touch with us and one of our friendly team will be more than happy to help with your enquiry. Alternatively, you can pop into our Stoke workshop for a closer look at our products and more information about our pressure washer training services.
RT @TheFarmart: ⭐️⭐️Advertiser of the day ⭐️⭐️ @BritcleanUKLtd is another of our lovely very long serving advertisers. They sell, repair &…
RT @TheFarmart: Great day at @StaffsShow meeting up with many of our advertisers & readers. Enjoyed watching some of the main ring attracti…
RT @Richard7Hill: Know this guy carrying a knife? Somebody must know him? He could stab someone you know, get him off the streets! NOW! @m…
Thank you @cheshirefarmart for the bacon sandwich, it has set us up for the busy day ahead!#cheshireploughingmatch https://t.co/RoQEDR2qFL
RT @cheshirefarmart: Yeah! our July issue has landed. You can find @woodpellets24 @natbeefassoc @WM_Agriculture @vwjearthmoving @TotalConcr…
Belt driven diesel option now available, cut out gearbox and keyway issues for good! Unit pictured is 200 bar, 15 l… https://t.co/hDBsxkpBt4
RT @cheshirefarmart: March issue has landed on farms today! Find @TES_Agri @Suddenstrikeltd @RVWPUGH @BritcleanUKLtd @Calcifert @Chelfordfa…
RT @wgtanker: Everything from a new road tanker plus all the support, parts and service that is needed to keep the vehicle in top condition…
RT @MJSgreenhouse: MJS Greenhouse Services for all your greenhouse cleaning needs. https://t.co/BbxRnY8NST
RT @cheshirefarmart: June issue has landed! Find @TheBodensGroup @TES_Agri @sstrikepest @arkrubber @BritcleanUKLtd @Chelfordfarmhttp://ow.l…