Karcher pressure washers are well known for their cleaning power and their range of models for all cleaning situations. Karcher is a trusted brand when it comes to jet washing.
Karcher Pressure Washers for Jet Washing Power!
No cleaning job is too big or too small for Karcher Pressure Washers! Starting with the compact and agile Karcher HD5/11 P Commercial Cold Pressure Washer this is the perfect starting commercial model for regular and moderate use. With an array of attachments and accessories available you will cut through the dirt in no time!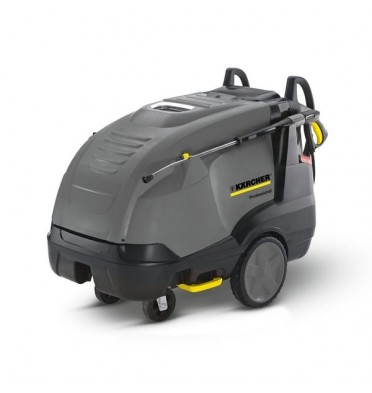 If more robust mobile cleaning is required an intermediate model like the Karcher HDS 10/20 4m Professional Hot Pressure Washer gives you the hot cleaning you need with 20% reduced fuel consumption form its diesel powered boiler.
Where serious cleaning performance on a daily basis is required from your Karcher pressure washer the fixed Karcher HDS 9/14 4st Eco Pressure Washer unit is what you need. Ideal for cleaning applications where pressure washing and disinfecting has to be done regularly to high standards such as in the food industry or in sanitary areas. This stationary Karcher pressure washer delivers a massive 180 bars of pressure while expelling 20 litres per minute of hot water cleaning power.
There are many benefits to using Karcher Pressure Washers. Even the entry level models provide a massive increase in water spraying power when compared to a standard hose. They also are more economical with the volume of water they use when compared to garden hoses and hand washing. This is great news for the environment when we are all encouraged to live more environmentally conscious lifestyles. The extra jet washing power in a Karcher pressure washer also makes cleaning more efficient, saving time and money for your business.
Choose Britclean for Karcher Pressure Washers
Since 1978 Britclean has specialised in the supply and maintenance of industrial cleaning equipment. We have the experience you can trust. If you would like to know more about Karcher Pressure Washers then please get in touch.