When it comes to pressure washers, Britclean provides an unbeatable range of cleaning solutions to suit all domestic, industrial and commercial needs. From cleaning cars and vans to high pressure chemical clean-ups we can help. We guarantee quality and have many fully trained, experienced technicians to deal with servicing and repairs of any pressure washers we provide.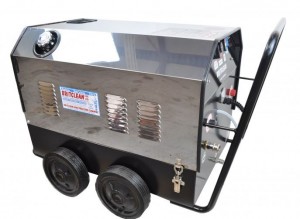 Why Choose a Pressure Washer?
For the home, pressure washers can work wonders for your property. Infinitely more effective in terms of power and efficiency than a common garden hose, a pressure washer can handle a wide range of domestic tasks. From cleaning the car to getting your roof and gutters looking like new again there is no better options. They can also have your paving, fencing, decking or driveways looking fantastic again making short work of any stubborn dirt, grease or moss.
We also specialise in finding the right pressure washer for your specific industry. The range of choice can be a bit daunting and businesses can often overspend in this area. Britclean are a family run company with many years of experience and will always strive to find the right pressure washers for your industry. We stock an unbeatable range from brands such as Karcher, Nilfisk, Ehrle as well as our own Britclean range of pressure washers. Should your requirements change for any reason, we also stock plenty of accessories to help you complete your project.
Contact us About Pressure Washers
We are based in Stoke and regularly supply our pressure washers to Staffordshire, Derbyshire, Shropshire, Cheshire and surrounding areas. If you have any questions or would like to know more about our pressure washers then please do not hesitate to contact us for more information and one of our friendly team will be more than happy to help. Alternatively, you can visit our Stoke workshop to chat face to face with us and see our products for yourself.