Choosing the Right Pressure Washer
Here at Britclean, we pride ourselves on having the best range of domestic, commercial and industrial pressure washers throughout Staffordshire, Derbyshire, Shropshire and Cheshire. However, we do understand that the range of choices we have on offer can seem quite daunting and picking the right pressure washer can be difficult. Here, we will guide you through our range to ensure you choose the most suitable pressure washer for your project. Whether you want to hire or buy we can supply.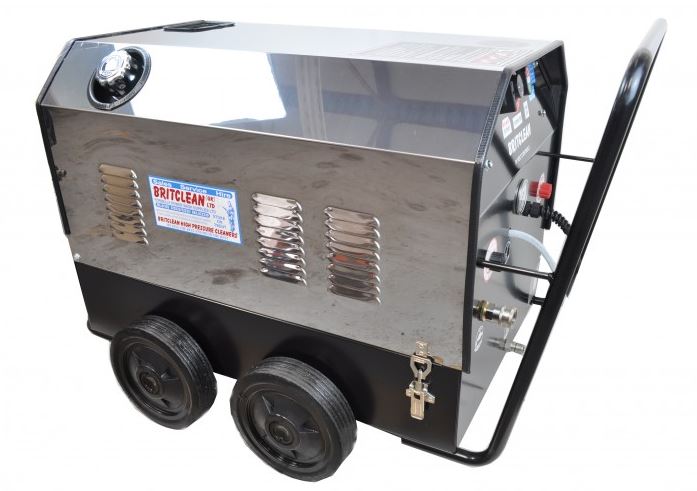 How to Pick Your Perfect Pressure Washer
The first thing to consider is whether to hire or buy. If you own a business and need to use a pressure washer regularly then purchasing is probably the best option. And, just because you buy from us doesn't mean you won't get continued technical support. Britclean guarantee the quality and longevity of any pressure washers purchased from us. If it does break down, we will fix it as soon as possible and provide you with a replacement until it is fixed. Our breakdown and repair service is second to none and we can often fix the problem within 24 hours for minimal disruption. Should you wish to hire a pressure washer, you will get equal levels of support. Hiring is a better option for one off jobs such as spring cleaning jobs.
Secondly, you need to make sure your pressure washer is suitable for the job you have in mind. Britclean have both hot and cold pressure washers available to both hire or buy. A cold pressure washer is perfect for removing general dirt but if the surface is greasy or oily then a hot pressure washer is a better option. The cold version will only mix the grease and oil in further but hot water will cut through it in no time. This is perhaps the most important part of the process as no matter how much soap or cleaning products you use, the temperature makes the most impact on the effectiveness.
The final thing to think about is the mobility needs of your pressure washer. Petrol powered washers can only be used outdoors but offer advanced mobility. Electric powered pressure washers are the best choice for indoor cleaning and also the more economic solution. In fact, cleaning with a pressure washer often saves far more money than any other method and is by far the most cost effective and eco-friendly choice. You need to consider the accessibility of the area you wish to clean and choose a suitably portable pressure washer that will fit in confined spaces and work around corners easily.
Contact us Today About Pressure Washers
Britclean have years of experienced and a team of fantastic engineers who know the business inside out. We operate our pressure washer services throughout Staffordshire, Derbyshire, Shropshire as well as Cheshire. If you have any further questions on choosing the right pressure washer, please do not hesitate to contact us or visit our workshop. Our highly trained experts will guide you through all the available options and find the right pressure washer for your project.
RT @MJSgreenhouse: MJS Greenhouse Services for all your greenhouse cleaning needs. https://t.co/BbxRnY8NST
RT @cheshirefarmart: June issue has landed! Find @TheBodensGroup @TES_Agri @sstrikepest @arkrubber @BritcleanUKLtd @Chelfordfarmhttp://ow.l…
RT @cheshirefarmart: May issue has landed on farms today! Find @TudorGriffiths @TES_Agri @BritcleanUKLtd @Calcifert @sstrikepest https://t…
Another very busy week comes to an end, here's one of the machines that were delivered to site over the last few da… https://t.co/6VIMnyFXud
RT @cheshirefarmart: Feb issue has landed today! Find @BritcleanUKLtd @concretepanels @CornthwaiteAg @vwjearthmoving @RockOilNews https://…
RT @cheshirefarmart: Jan issue has landed on farms today! Find @BritcleanUKLtd @CheshireShow @PhantomLtd @nickbrookesgrp @concretepanels ht…
Here's a Nilfisk Attix 9 110 volt vacuum ready for delivery this morning, a cracking vac for the price! #britclean… https://t.co/GRXI0VHQsk
RT @cheshirefarmart: Dec issue has landed on farms today!Find @BritcleanUKLtd @WM_Agriculture @Chelfordfarm@vwjearthmoving@TudorGriffiths h…
RT @cheshirefarmart: Nov issue is online now! Find: @woodpellets24 @isothane @ACJacksonLtd @AFSBiomass @BritcleanUKLtd @CoziBed https://t.…
@TockwithTrain Hi, yes that's definitely something we can sort out either way, please call us to discuss it further.